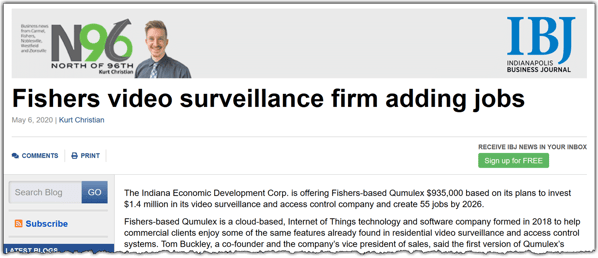 The Indianapolis Business Journal's North of 96th blog recently chronicled the early growth of Qumulex.
The genesis of the article came from the recent grant to Qumulex by the Indiana Economic Development Corp to help with job growth. The article goes on to highlight the founders who are serial entrepreneurs:
Qumulex's 21 employees are now working to offer those companies a mobile app and browser-based software that modernizes legacy cameras and access controls by transitioning them to an entirely cloud-based or hybrid system.

If surveillance is all about tracking where someone has been, then Qumulex's founders are hoping the trail of successful companies they've left in their wake will instill confidence in the new brand.

The company's eight founders have been building transitional technology products and selling them to commercial security systems dealers across the nation for 30 years. Buckley said Qumulex has ties to successful video conversion companies, like Truevision and Integral, from as far back as the late 1980s.

In 2005, Qumulex's cofounders launched Exacq Technologies. The company, which focuses on security and surveillance video management systems, was named one of IBJ's 10 fastest-growing private companies in 2012 and 2013.

Later that year, Switzerland-based Tyco International Ltd. saw Exacq was on track to generate $75 million in revenue in 2014 and quickly bought the company for $150 million.
You can read the full IBJ story here.