The August 2021 QxControl update is now live! In this update, users are now able to save video clips into the cloud service in addition to downloading to your local device. This update also introduces the ability to share these video clips with ease. Simply choose an email recipient or share via a link. This new feature also allows full control to delete or set the link to expire after sharing and includes an audit page to see who is accessing the video clip and when. In addition, each Camera Info page will display how much cloud storage is available and is being used by exported video clips.
Here's a video overview of this month's new features:
Save Video Clips to Cloud: Easily save video clips to the cloud making these clips easily accessible from any device you login from. After selecting a video clip in Search, simply choose the "upload to cloud" button right next to the download button you have already been using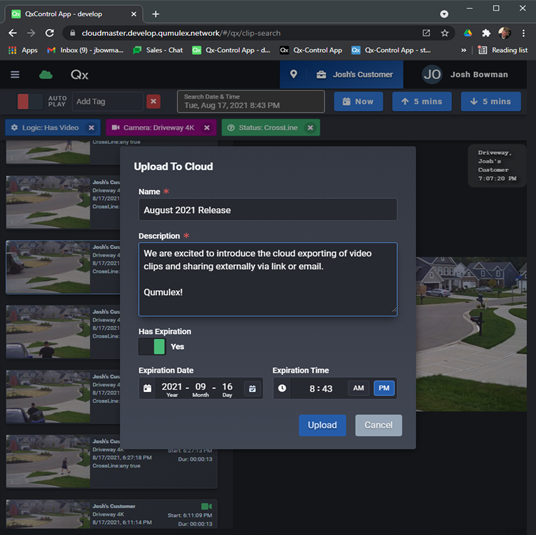 The uploading clip feature enables FREE 20 GB per camera cloud storage, and has options for naming and describing the clip, as well as being able to set each clip to expire on a date you choose, if desired.

External Clip Sharing: Sharing video clips has never been easier! Simply enter an email address, or copy the link and paste it to an email or text message.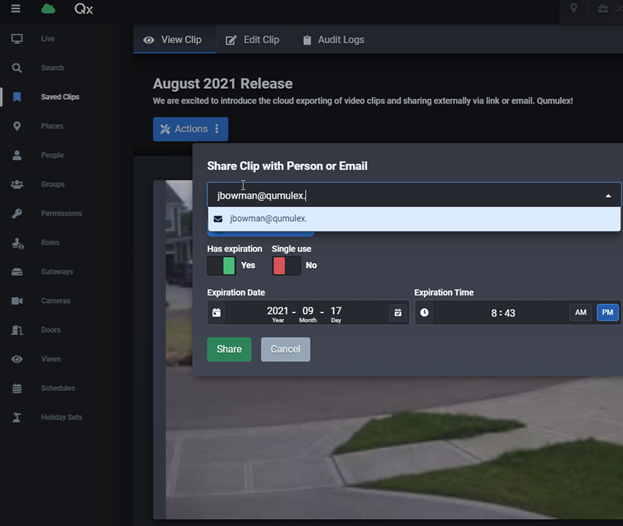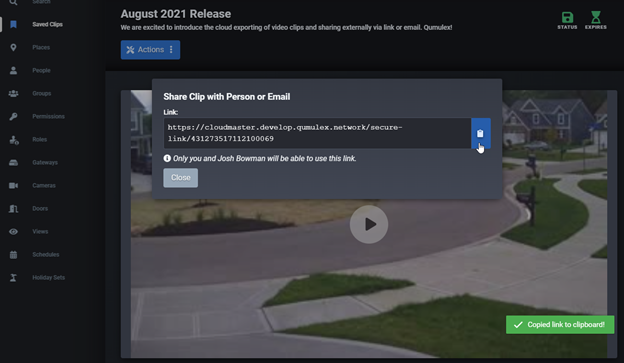 The

Clip Information field

shows when it has been shared, with whom, and when the link is set to expire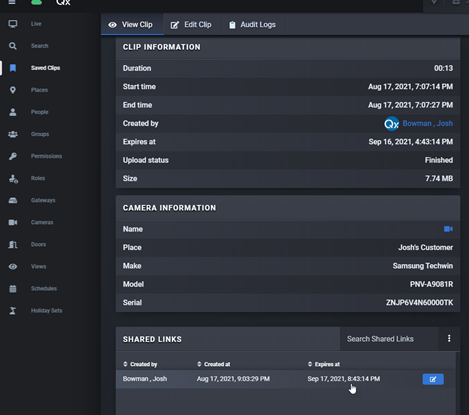 You can edit the video clip to modify the description, change the expiration date or to delete the video clip.

Audit Logs

show who has shared, viewed or deleted the shared link.

The

Camera Info page

has been updated to show the available and used amount of cloud clip storage for each camera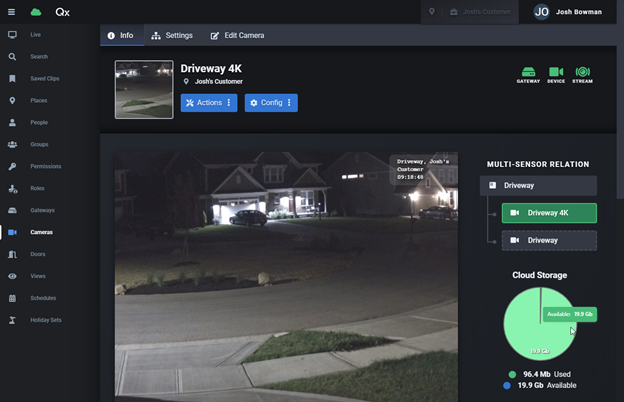 Also in the August Update: Several other enhancements have also been added to QxControl in the August 2021 update, including:
The ability to add an image to the Gateway Info page. You could choose to download the stock image from our website, or you could include an image of the actual gateway to help identify or document its location.
Access Control credentials now support the ability to exclude a site code for customers that do not wish to track the site code or have a legacy system with a mix of site codes, or they are unknown.
Support has been added for some Wiegand-based WaveLynx readers.

Information on this update with a complete list of features, enhancements, and fixes, is available here: QxControl Release Notes.