The July 2021 QxControl update is now live! In this update, the Live and Cameras pages have been updated to the new User Interface and functionality has been expanded. This update also includes significant improvements to the mobile experience for Live Viewing including full functionality on iOS devices for full screen viewing, Digital PTZ, and drag and drop Widgets. Desktop usage is made easier through available keyboard shortcuts and easily click on a Camera to view full screen.
Here's a video overview of this month's new features:
Live Page Update: In addition to updating to the latest UI, several enhancements have been made to the Live page, providing an improved experience while viewing in live and saving live views. .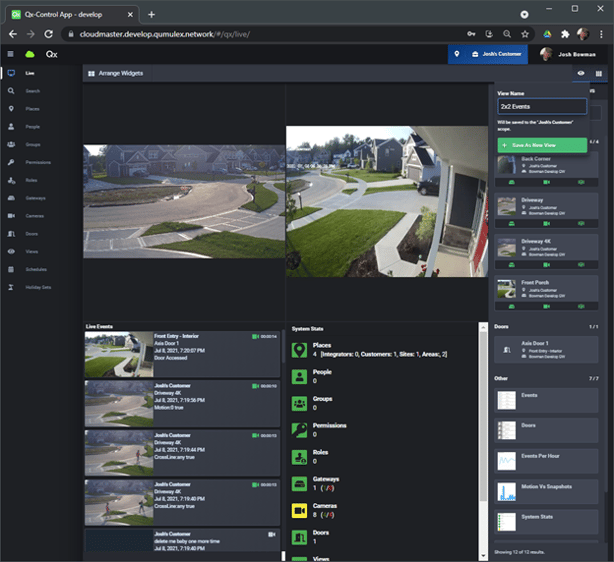 The Widgets tool bar has been refreshed to offer a more intuitive experience:
Widgets are now categorized based upon Cameras, Doors and Other which includes Data Charts and Event Panes. This makes Widgets easy to identify and find. A search bar is also provided for easy location of Widgets in larger systems.
Arrange Widgets feature allows Widgets to easily move between panes while viewing.
Drag and drop Widgets into your layout on both desktop and mobile.
Selecting a Widget provides better feedback. A green numbered tab appears when selected and is also used as a grab handle on mobile for easy drag and drop. Widgets already being viewed are indicated by an orange Eye-Con.
A 3 Dot Actions menu is available for widgets that will take you to the info page of a Camera or Door.

Saving and working with saved Views has never been easier:
Selecting the top Eye-Con allows saving a new view.

The Views tab now allows for creating and editing views without leaving the Live page.
The Views tab also now allows updating an existing view to change or include new Widgets, without leaving the Live page.

Improved Mobile Experience:
Drag and drop Widgets easily from your device.
Full screen viewing now available on iOS devices.
PTZ functionality now available on iOS devices.
New UI is easier to read and work with on smaller screens while maintaining full functionality on both desktop and mobile devices.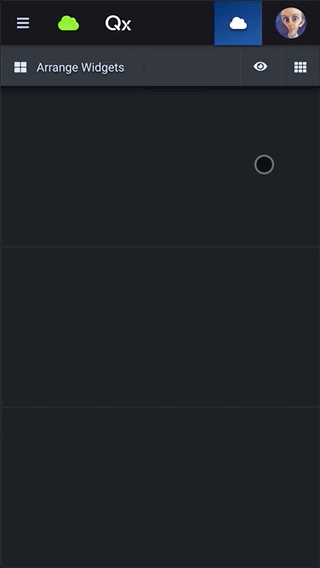 Improved Desktop Experience:
Double-click on a camera view for full screen and single click or escape to leave.
Keyboard shortcuts for easy and efficient operation:

A – Arrange Widgets
S – Opens Live Tray
W – Open Widgets Tab
L – Opens Layouts Tab
V – Opens Views Tab
Shift + Click – allows many Widgets to be selected at once for easier drag and drop.

Cameras Page Update: The Cameras page has been updated to the new UI. This allows consistency in operation with other application areas such as the Doors page and introduces additional functionality.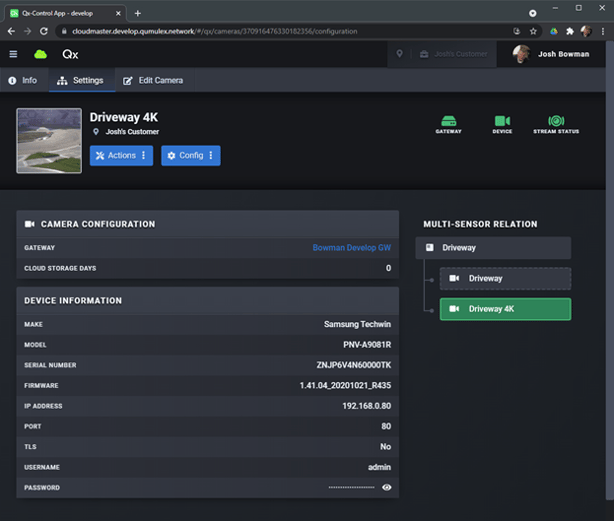 In the same way that Doors can relate what devices are connected to a Door Controller, the Camera now shows what sensors are connected to a multi-sensor camera. Feedback is also provided when making changes or deleting a sensor that is part of a multi-sensor camera. This provides much better feedback for users that are administering multi-sensor cameras in Qx-Control.
List view shows the IP Address of the Cameras in the list.
In card view, the 3 Dot menu on each Camera Card allows you to easily jump to Live or Search.
Actions and Config menus on the Camera Info page are now consistent with Door Info page for consistency. Actions allows for Live and Search and Config contains the Go To Webpage and Reconnect features for easy remote management.
Live view of the camera with full PTZ, full screen and On Screen Display.
Recent events are displayed just below a Live view of the Camera.
Doors that are associated with the Camera are listed and by selecting "View" you are directed to the Door's Info page.
Settings and Edit pages are consistent and similar workflow to the Doors page.

Information on this update with a complete list of features, enhancements, and fixes, is available here: QxControl Release Notes.