QxControl
Modern, Powerful Browser-based Video Surveillance & Access Control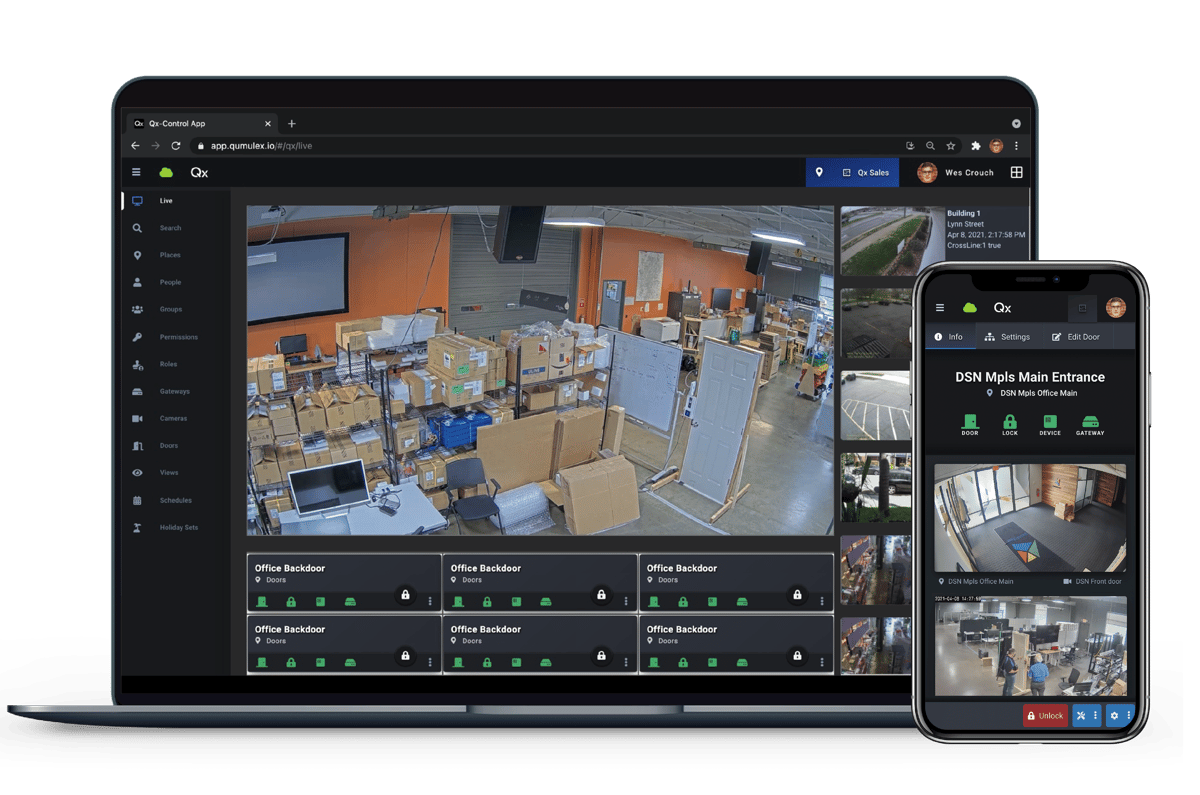 QxControl Overview
Designed from the ground up to be a unified, cloud-based, physical security solution for those serious about security, QxControl delivers a robust, easy-to-use, mobile-first experience.
QxControl features a simple-to-learn, modern user interface, giving you the same functionality - with a common experience - on any device with a browser. As a Progressive Web App (PWA), QxControl adapts automatically to the screen size of the device you are on. Learn, configure, and support just one software platform for both video and access control, whether deployed on-premises or in the cloud.
One app to learn, one app to support.
Cut the time spent learning, supporting and troubleshooting disparate Windows, iOS and Android apps by two thirds.
True familiar browser experience, including video. No plugins to download, nothing to install. Your app is always up to date, all the time.
No per-client licensing. Have as many people as needed connected at any time with no additional charge.
Unified, modern browser-based user interface
View/control video & access control events together
All information sent from a secure, encrypted https webserver
Native HTML5 content, no browser plugins required. Reduces security risks and eases administrative burden
No thick client to maintain
Common functionality regardless of device: Chrome, Safari, iOS, Android, and more
Customizable Views
Choose from a wide variety of layouts

View cameras, doors, system health, analytics, and more

Easy drag-and-drop to create views
View Video & Access Events Together
Create views that combine video and access events for more situational awareness
Places: Natively Multi-Tenant
Places structure provides physical and logical multi-tenancy
Organize your customers into your own multi-tenant hierarchy
Physical access rights and camera associations are built through Places
Set User Scope
Enables easy management of your multi-tenant ecosystem

Designed for integrators managing large/multiple customer bases

View, control, configure at the tenant level without risking cross-tenant operator errors

Video and Event Search & Playback
Intuitive clip-based search
Find access control events by person or place
Easily find video from event places
Seamless search of cloud and local storage
People
Intuitive approach for managing credential holders and software users
Organize People into Groups within Places to control physical and logical access
Devices
Configure and control doors and cameras with a common paradigm
Doors and Cameras are assigned to Places to control physical and logical access
Monitor status of all devices by tenant or any place in the hierarchy
Doors
Monitor door statuses and control your system
Execute administrative actions from any device
Schedules
Monitor access schedules for your places
Change, edit or modify all existing schedules and create new ones
Intuitive User Interface
Modern, intuitive user interface that enables easy access control management from any device with a browser, including mobile.
Mobile-First
QxControl is deployed as a Progressive Web App (PWA), so it runs on all devices with browsers, with full functionality

You don't need to deal with multiple separate apps for desktop, iOS, Android. QxControl's PWA app runs on all devices and is always up to date.